Part # HO7005R Chrysler Square Back Revised Alternator 80A Upgrade/Repair Kit
CHRYSLER SQUARE BACK REVISED ALTERNATOR 80 AMP UPGRADE KIT Fits alternator with eyelets on stator leads, stepped stator core, and bolt in rectifiers. From 35 to 65 amps, single and double pulleys, used on Chrysler vehicles.
Part # HO7005R Kit Contents:
1- Positive rectifier w/stud
1- Negative rectifier
2- Brush holders
2- Nylon washers
2- Brush holder screws
2- Brushes
1- Positive battery post insulator
1- Mica washer
1- 80 amp Stator
ref: HO7005R
Which Chrysler Square Back Kit Do I Need?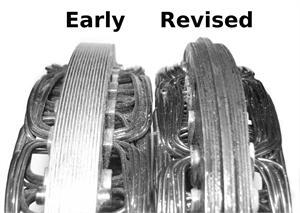 There are two styles of Chrysler type Square Back series alternators, an early style and revised. The easiest difference to spot is the stator core. The early style has a smooth stator core, while the revised style has a ridge. Above is an image showing the difference side-by-side between the two stators. You can see the difference without even taking your alternator apart. On the early style, the front and rear housings are separated by the half inch stator core. But on the revised alternator there is about a 1/8 inch gap between the housings.